By Ann Corcoran, June 10, 2021
Somali-born Ayaan Hirsi Ali recently told cable news pundit Tucker Carlson that America is the "best place in the world" to be a black woman.
Not surprisingly, she is imploring Americans to organize against critical race theory.
Hirsi Ali also calls out the "corrupt" Southern Poverty Law Center that has targeted her on its infamous hate list. (Just for the record, I am also a target of the SPLC as they have labeled Refugee Resettlement Watch, my other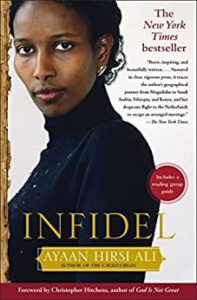 blog, as a hate group. Never mind that RRW is not a group. Details like that don't matter when they are using fear to raise money!)
More on Ali's refreshing views from Fox:
Somali-Dutch scholar and activist Ayaan Hirsi Ali strongly criticized the increasing presence of critical race theory and racial politics in the United States, commenting that as a black woman, the United States is the best nation in the world for minority rights on the part of both race and gender.

Ali, who was the victim of the regional custom of genital mutilation and later became a women rights activist speaking out against such customs; after her father shepherded her family out of Somalia, said on Fox Nation's Tucker Carlson Today that those who preach division and theories of inequality do not recognize America's unique standing as a beacon for the oppressed — rather than a feature of oppression.

'That's what's so great about America is that a lot of these things have actually been achieved; equality between men and women, it's the best place in the world to be female, it's the best place in the world to be Black, it's the best place in the world to be gay, trans, whatever you want to be,' she told host Tucker Carlson.

Ali told Carlson that it is important for people to organize instead to counter ideology like critical race theory with critical thinking.
"When black people in America were subjected to slavery and all sorts of humiliation, they were able to wave those documents [our founding documents – ed] to fight for their dignity, their equality, their freedom — that's a unique thing — that's what I try to tell Americans: You don't have that in Somalia, Saudi Arabia, Ethiopia or even any of those European countries: It's unique to America."
More here of the interview with Carlson.
Ann blogs at Frauds, Crooks, and Criminals.